I've been thinking about Darcie a lot the last couple days. This year will mark 10 years since she passed. I think about her when I sing on stage, which I did on New Year's Eve. She lived loud. She loved loud. She was full of joy, laughter, and encouragement. She lived with her whole heart. We weren't too great about keeping in touch the last few years of her life. But losing her felt like losing a sister and I feel her presence a lot more since she's gone.
Her energy is still here, her memory lives on and encourages me. She inspires me to live more fully, more out loud.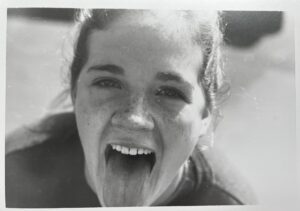 We spent a lot of time together on the court, and also in the van, driving to games. My volleyball teammates often doubled as subjects for my photo projects.
These grainy black and white images which are now sweet memories. These moments captured while waiting…maybe at a gas station or outside a restaurant on the way to or from a game or tournament.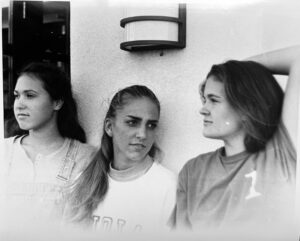 How many times did the 11 of us pile into or out of a 12-passenger van? How many hours on the road did we spend singing, talking, laughing? How many hours did we spend in silence, contemplating the game we just played, our wins and losses, our triumphs and failures, every play? I miss being on that team, with those girls. What a gift that time, those bonds and experiences were.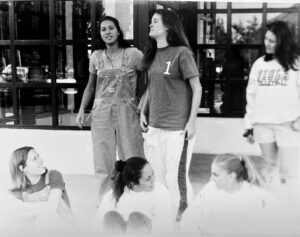 I miss the dark room; the way time passed in 10-minute chunks between the dim, red light of the dark room and back into the white light. I miss the smell of developer, bringing an image into focus on the enlarger. Exposure. Watching it slowly appear on the photo paper in the tub of developer. The dark room was magic.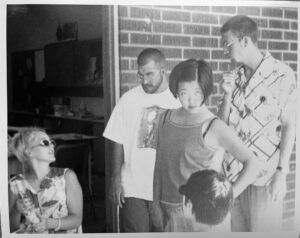 Dark
Light
Dark
Light
Red
White
Black & white
 

Until I opened the photo lab door to find the sunrise.

Film strips hanging on a line, photo paper hanging out to dry. Images of friends, teammates, roommates, my fellow art majors, all that youth and beauty and fun.

This year will also mark 10 years since the end of my marriage. A relationship I was in for 20 years, which is now less than half of my life. It's now much less of what defines me as a person. He shows up in those photos too. Young and beautiful and strong. Before all the poison and pain, or at least the effects of this hadn't shown up yet. We were young and naive and so carefree.
 
Photography was so different then. It was more expensive. A roll of film. One shot at a time. You didn't know what you had for days after, until you finished the roll and developed the whole thing. Time was cheap, we had so much time back then. These things have now flipped.
 
Contact Sheet…a high-level view of your projects over the course of 24 frames.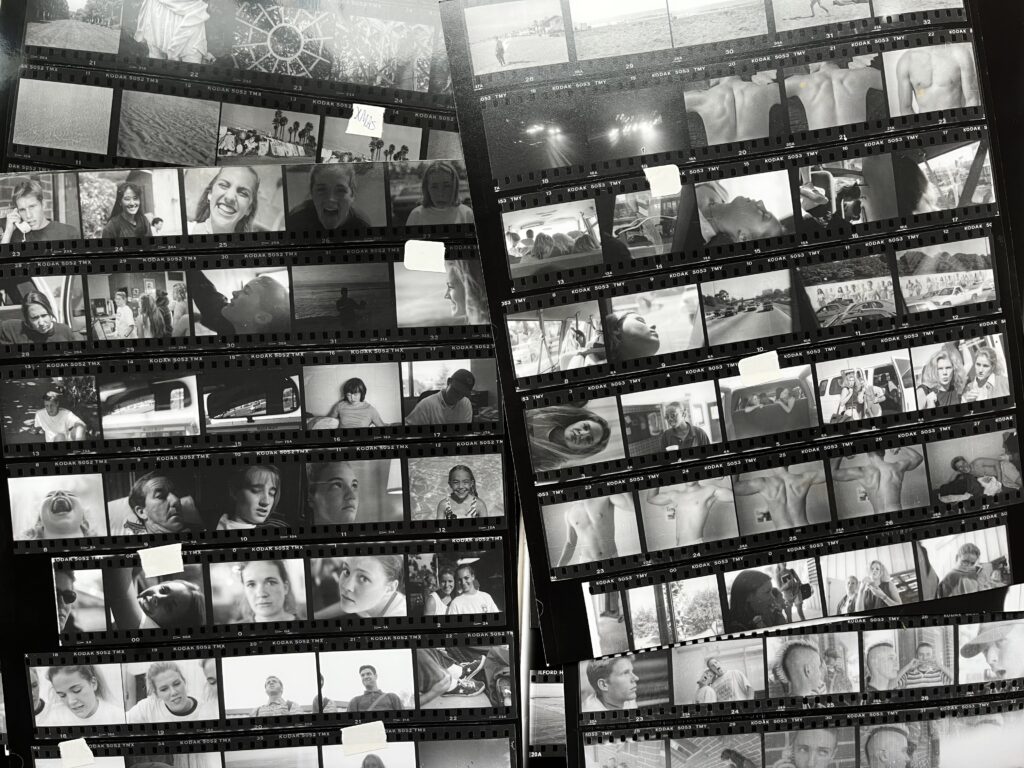 Each photo taken was recorded in a journal so you could track the settings, reflect, and improve for next time. Meta data was captured by hand; pen to paper in a composition notebook back then. Image 4 of 24 ISO 400, F11, 1/60. Every failure and success contemplated. Was the sky exposed correctly, or was it blown out? There was no auto-correct, no dimming the highlights while brightening the shadows. Just black and white and grey. Maybe a little dodging and burning. There is always a workaround I guess.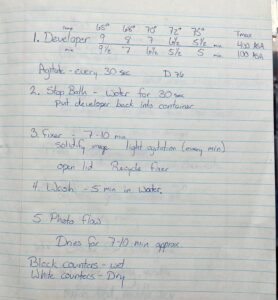 I didn't know much about grey back then. I didn't realize nearly all of life is there in the grey. Is there even such a thing as black and white? I painted shades of gray once as part of a painting project. We couldn't use black paint either. Black was made with a mix of ultramarine and brown…burnt sienna maybe…I can't remember. The assignment was to create a continuum of grey from white to black in 10 steps. I wish I had learned the deeper lesson then. Does black or white even exist? It's mostly grey.

 
Just looking through one contact sheet, I see my boyfriend about to surf Newport Beach, flexing shirtless for some photo project, a photo taken from the back seat of the van of my teammates on the way to some game. There's Sunny's overalls reflected in the window with L.A. traffic on the other side, the Kent Twitchel mural with a Biola runner on the 10. Rameson, Roberts, Darcie, Yvette, Sunny and Deb, Lyons and Melanie Michelle Denise Smith Johnson (depending on which parent showed up to the game that night). Jed. Nate. Angela. Brian. Emily. Sheryl. Robbie Halleen. College was fun.
Death. Loss. Change. These all help us let go of something and make room for something new, and usually in the end, it helps us grow and brings us to a place where we become more us. It is meant to be.