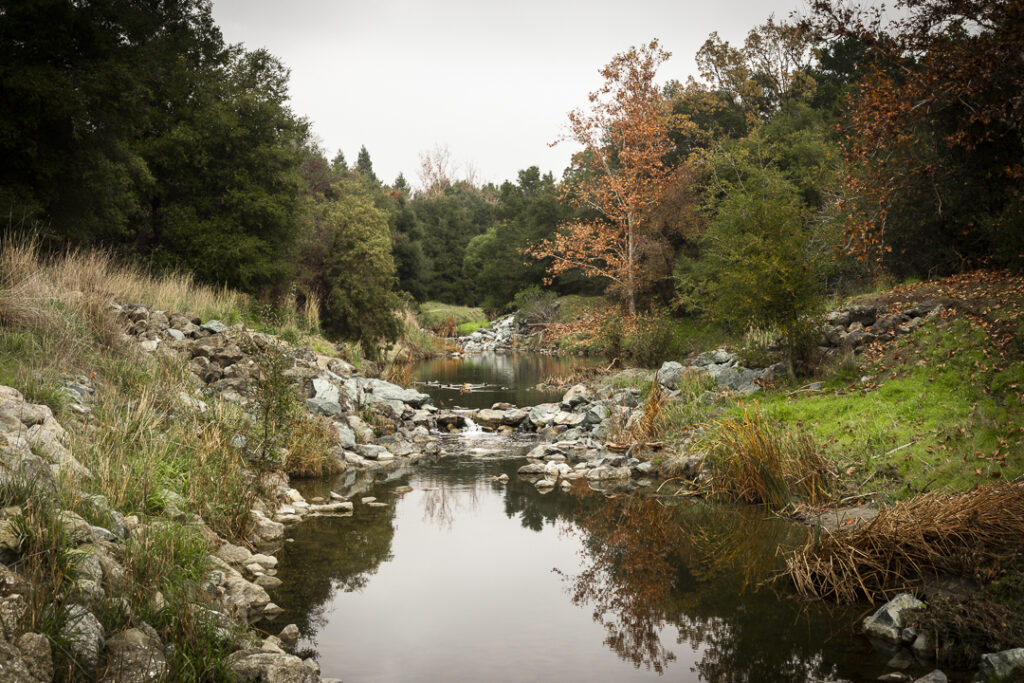 I found this magical spot near my house shortly after moving to this side of town last year. I often walk or jog here and stop for a few minutes, scrambling down the rocks to the river's edge, to watch the water trickle and the birds frolic. It's my place to pause, breathe, and enjoy nature. I often imagine I'm taken back to a different time and consider how this place looked and who walked through these trees before I came. 
Yesterday, as I jogged past, I saw someone painting this same scene. She later shared her painting with me. It was such a perfect moment, I stopped to ask if she wanted her picture taken while she painted. 
On a recent morning run, after chasing the pink and orange sunrise, brilliant ahead of me, I turned back toward home as orange light washed me from behind and lit the trail like a dream. I stopped on a bridge over this creek. Tiny drops drizzled on me and the water below as I looked out at the massive expanse of sky above. I watched the raindrops create ripples in the water as they took on a new form. Droplet to stream. My eyes followed the stream until my mind's eye continued its path to the ocean. These tiny drops continued to become something different…a stream to an ocean. Eventually they evaporate back into the atmosphere and fall somewhere new as snow. 
I looked up into the rain clouds, still edged pink with the sunrise and I spoke to the divine creator who I understand now to be so much more than the  male deity that I imagined before. Hearing God only referred to with male pronouns, to me, minimizes half of the attributes of the divine. I told her, for this full moon, I release those limiting beliefs. I watched as my old identity fell to the water below and drifted down the stream, to become something new and continue to change.  
I released seeing myself as fundamentally bad, needing something outside of myself to help me be good and loving. I have been given this beautiful gift of living the human experience, the divine within me, and the point is to love. I recently heard someone say "religion is training wheels to spirituality", and that felt like a good description of this evolution, taking off those training wheels. 
Einstein once said, "I think the most important question facing humanity is, 'Is the universe a friendly place?' This is the first and most basic question all people must answer for themselves." The answer has profound implications. If we believe the world is intrinsically unfriendly, and we are intrinsically evil people with wicked and deceitful hearts as I was told so many times growing up, then we'll use our resources and technology to create bigger walls and weapons. 
If we believe that the world is intrinsically a friendly place, we'll use our resources to deepen our understanding. I believe love is at the source, and I'll keep looking for the beauty of that every day.