Originally posted October 2015
We spent Thanksgiving in Ho Chi Minh City with Megan who was spending four months teaching English there. Kia and I flew in to Seoul, South Korea and spent the night in a Korean style room with mattresses on the heated floor before boarding a plane to Vietnam where we would spend the next couple weeks. We shopped in Korean markets which had cell phones with color displays, as yet unheard of in the states at the time.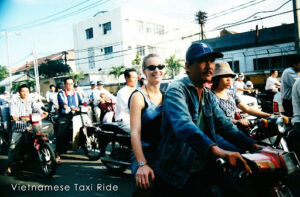 Megan met us at the airport with rice hats. We took a cab to her house which would be the only time we rode in an actual car for the rest of the trip. The city runs on scooters and motorcycles.
We had clothes custom made for us, including some silk qipao dresses. There were plenty of pre-made dresses to buy, but none of these fit my 5'10" self. We bought material at a fabric shop while playing patty cake with the local kids.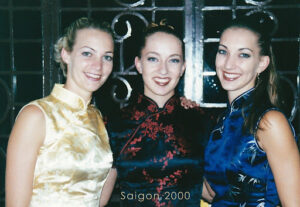 Then we went to a seamstress. She took our measurements, looked at some of the pictures we brought from home, them made us awesome outfits.
We toured the Mekong Delta. But before that, we got food poisoning from an upscale Chinese food restaurant serving drunken prawns. I've never been so sick in my life. That night president Clinton made the first visit to Vietnam from an American president since the war. The streets were going crazy in celebration and I didn't have the strength to stand at the window and watch. Still, it was cool to hear and witness that.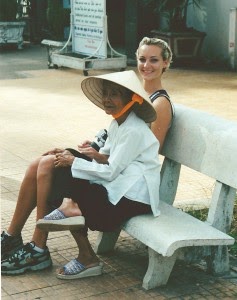 The museums in Vietnam show history from a different side than we Americans are used to. We lost that war. The museums showed atrocities committed by American soldiers and the damage done to that country rather than celebrating any freedom we had hoped to bring. It was a different story in Korea where the war memorial celebrated the various countries that helped South Korea escape communism. The Vietnamese museum was the first place I've experienced the sobering feeling of being on the losing side of history. Helicopters from 30 years before still littered the airfield.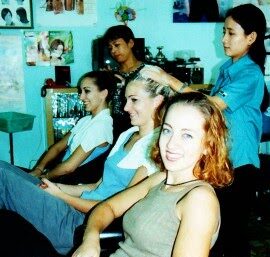 Kia, Megan and I got head massages. They lasted for one hour and felt amazing. I looked like a Qtip after with my short platinum hair sticking straight up and frizzing all over the place afterward.